What a heck of a ride it has been for the markets over the recent weeks.
First, the coronavirus. Then just yesterday, traders were bracing themselves for one of the worst events in stock market history— all because of a failed OPEC deal that led to Saudia Arabia cutting prices and crude oil futures plunging a whopping 25%.
The day may not have shaped up as badly as it could have, thanks in part to a 'circuit breaker' that halted trading for the first time since 1997 following a 7% drop in the S&P.
Or at the very least, if you own a gas-guzzling V8 pickup like Jeff Bishop, suddenly fill-ups got a whole lot cheaper.
But one thing is for sure— this weekend's events had some major significance not just for the overall market, but the IPO world as well.
Front and center of the whole ordeal, newly public Saudi Aramco (SAR) fell below its IPO price, damaging the Saudi economic plan.
So if you think yesterday was a tough day for the S&P and Dow, just consider the market destruction in the Middle East.
What now stands before the Saudis and the world's largest IPO is an ugly price war in the global crude oil market that has no end in sight.
In Riyadh, the capital of Saudi Arabia, shares in SAR dropped 9.4%.
This marks a major setback for the Saudi government and the Crown Prince Mohammad bin Salman, as the grand aspiration of opening up the energy-dependent economy now wavers.
So today I want to take a closer look at the new circumstances around the $29 billion Saudi Aramco IPO— and remind you why I originally advised against trading it. 
Oil price cuts were immediately initiated by Saudi Arabia in reaction to the OPEC alliance breakup that included partners like Russia.
Following the failed OPEC talks, Oil prices have not plunged this far since 2008.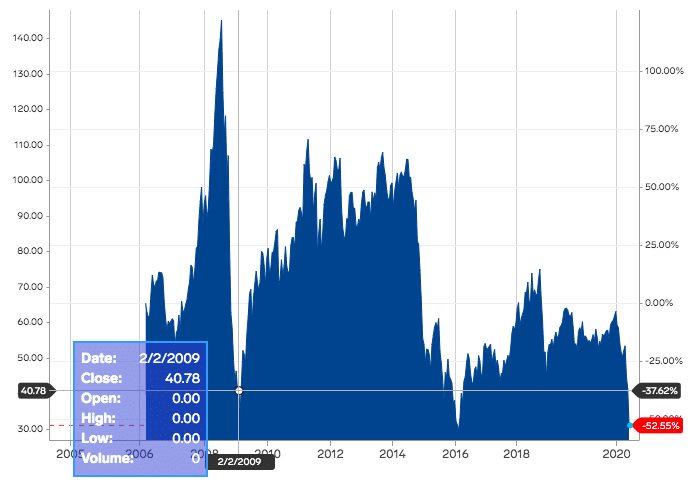 Source: Business Insider 
This oil price plunge lands the IPO of Saudi Aramco squarely at the top of the bubble.
The company had managed to maintain a mostly even keel since it's IPO late last year, but all of that changed starting last Thursday.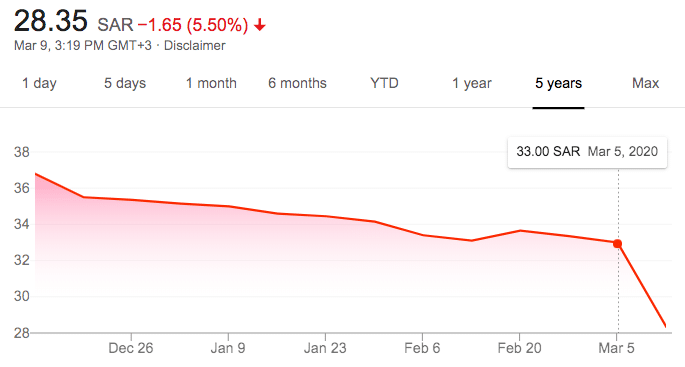 Source: Yahoo Finance 
Right now, only 2 of the 18 analysts tracked by Bloomberg are recommending that people buy shares of Saudi Aramco. The other 16 have provided hold and sell ratings.
Of course, I could have told you not to buy Saudi Aramco a long time ago. In fact, I did!
Have a look at the lede for an article I put out in November, in the month before the company went public…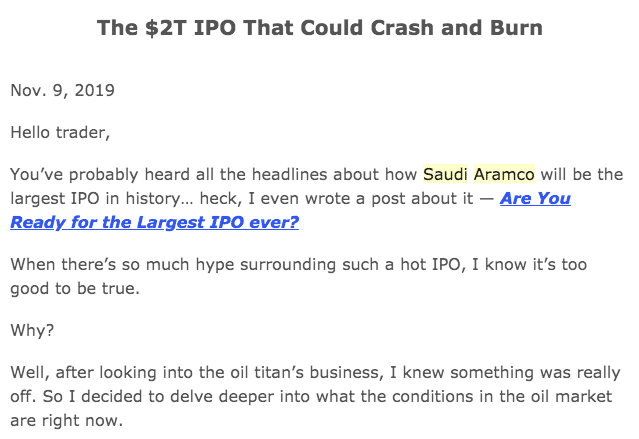 Perhaps This Calls for a Little #ToldYouSo.
Here's How I'm Advising People on the Next Big IPO
Back then, I was concerned that an upcoming OPEC meeting regarding some impending production cuts. 

I was convinced that things were shaping up to be a huge disaster. And today, what was once a distant concern is now a firm reality.
The oil cartel is now unshackled from its previous restrictions, which means that producers are now going to take advantage of every chance they can get to boost production.
Saudi Aramco now intends to increase oil production to more than 10 million barrels per day.
Of course, this shakes up the IPO market a bit. However, that doesn't mean there still aren't any potential opportunities out there. I just have to be highly selective and pick my shots.
For the most part, I'll still stalk any recent IPOs to potentially trade… and use my simple green, yellow, or red light signal to alert my clients about my moves.