Seriously? Toilet paper flying off shelves, hand sanitizer bottles auctioning for $80, and people in masks standing in line outside Costco two hours before the open…
As you are well aware, the coronavirus scare has induced a lot of panic in the markets right now.
And whenever there is panic, sometimes the best thing to do is to take a step back, get some perspective, and breathe. 
Right now, why not take one deep, mindful breath, allowing air to gently fill your abdomen and gradually expand your chest all the way up to your clavicles… 
If that sounds like a bunch of woo-woo stuff, stay with me here. 
You may not find me at a yoga studio at morning's first light, but getting up early so I can calmly assess the pre-market conditions has been crucial in helping me hunt down exciting IPOs and also stay undefeated in my Daily Deposit trades ever since the market started crashing on February 20. 
Looking at the current coronavirus market sell-off, we have two options: 
We can effectively "quarantine" ourselves from the market and not trade at all. Or, we can use all this time of relative social isolation to do some good research on companies that are outperforming even in these difficult market conditions. 
And it just so happens that while more and more people are wearing masks these days — and while one Italian mask company is even planning to IPO as its sales soar — one recent IPO that provides mask-free support for people with respiratory distress is on the move. 
It's called Vapotherm (VAPO), and I want to tell you everything you need to know about its company profile and recent short squeeze here today.
Those big, clunky masks with huge tubes that you see people wearing at the hospital are now becoming a thing of the past, thanks to Vapotherm. 
The breakthrough Hi-VNI technology created by Vapotherm provides fast and safe treatment to respiratory distress without the mask. 
This Hi-VNI technology facilitates airflow rates of up to 8 liters per minute in infants and 40 liters per minute in adults. 
As a non-invasive solution to respiratory support, Hi-VNI is a more comfortable alternative that clinicians can provide to treat hypoxemic and hypercapnic patients, characterized by low levels of oxygen in the blood and elevated carbon dioxide levels in the blood, respectively.  
Hi-VNI produces medical-grade vapor by gravity feeding water into a cartridge, heating it, and moving it through small tubes that enter the nose. 
The technology is all quite promising, which is why it's unsurprising that many investors are jumping into the company.
Some of the recent large investments included the following: 
Broadfin Capital for an additional $12,198,000 stake during the 4rth quarter

Driehaus Capital Management for an additional 3,999 shares in the fourth quarter, adding to its already 385,353 shares

Millennium Management for a 95.3% increase in holdings in the third quarter
Also, many analysts have given the company strong ratings over the recent months due to positive earnings reports.  
Earlier this month, BTIG gave the company a 'buy' rating and Willaim Blair reissued an 'outperform' rating. 
First-quarter revenue was $13.01 million, an increase of 20% from the quarter before and an outperformance of the $12.46 million analysts had predicted. 
Forecasts from analysts now stand between $13.5 million and $13.88 million for the quarter ahead.
Short Squeeze Potential
In February, Vapotherm (VAPO) received a substantial amount of short interest. 
By February 28th, the short interest totaled 1,170,000 shares, which had grown 13.65% from the 1,030,000 shares on February 13. 
As of this past Monday, 12.9% of the shares in the company are held short. 
If I do decide to trade VAPO, I'm going to wait for one of my bread and butter setups.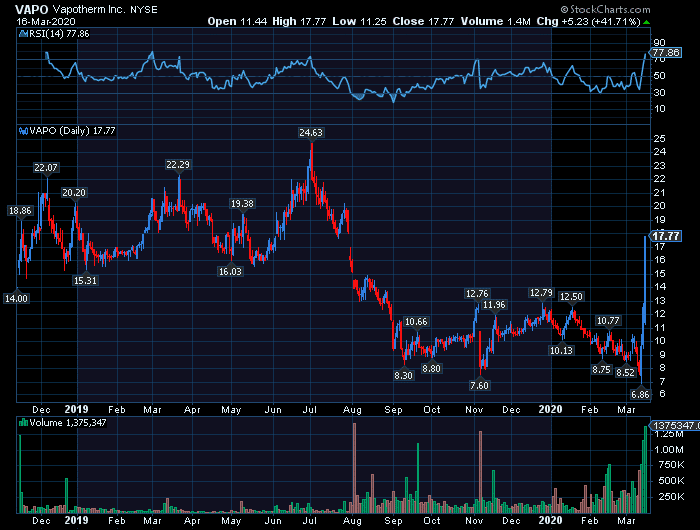 The stock has already exploded, and in this environment, I don't want to be chasing stocks. I'll be sure to let my clients know about my moves, and provide a simple green, yellow, or red light signal regarding any recent IPOs.