There can be no doubt that the coronavirus has had a substantive effect on the IPO market right now. 
With the S&P 500 and Dow Jones recently posting some of the biggest weekly declines since the financial crisis of 2008, it's tough for investors and new public enterprises alike not to be a little nervous about entering this space. 
Of the few recent and upcoming IPOs, two are biotechs that have been brave enough to face the market perhaps only because biotechnology is a favorable sector during this coronavirus-induced selloff. 
We covered Passage Bio (PASG) recently. We also looked at Imera (IMRA), which is the only IPO taking place this week. 
My subscribers will be the first to learn whether either of those stocks receives my green, yellow, or red light signals in the watchlist I'm posting here.   
But with all the volatility we're seeing, many companies are putting their IPOs on ice. Steady demand for company shares is simply too difficult for underwriters to locate during times of such high volatility. 
Many of these companies were actually rushing to go public in hopes of debuting before the 2020 election in November, as uncertainties during the battle for the presidency can suppress the IPO market. 
[To access some really exciting profit opportunities, check out the Election Catalyst Playbook here.] 
On top of that, the recent IPO bust of Casper Sleep (CSPR) has given the market a lot to digest and has sent out a clear warning sign, especially against loss leading tech-oriented companies.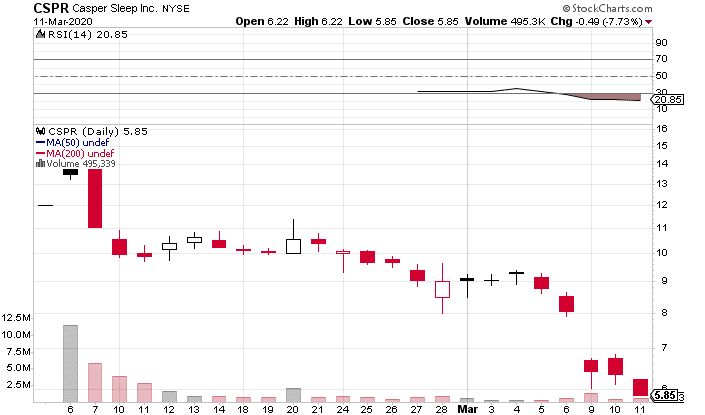 A few of the companies delaying their IPOs right now include Madewell (MDWL), Warner Music (WMGC), and Atotech (ATC). 
I want to take a brief look at each of them in today's issue, including the circumstances around their delays.
The IPO of Madewell, a sister division of J. Crew Group, is officially being put "back on the shelf," as the company fears how investors will respond to its public debut amid coronavirus concerns. 
The proposed offering, which was scheduled to proceed on March 2, is now expected to take place between March 18 and April 30. 
Madewell has hoped to raise $100 million as a result of its IPO. 
The Madewell numbers looked okay in the fourth quarter of this past year, though. 
The New York-based company revealed a 13% jump in sales to $178.1 million, and much of that was due to the success of its popular denim products that are priced in the $100 to $150 range. 
That's in conjunction with a good fourth quarter from J. Crew, which posted a net income of $1.5 million, following a loss in the fourth quarter of last year. 
Madewell isn't the only retail company that is delaying an IPO this month amid coronavirus concerns, however. 
Footwear and accessories company Cole Haan made a similar decision. 
Cole Haan's decision was less surprising though, considering the tariffs on Chinese imports the company has been battling was already a major concern. 
Warner Music (WMGC)
The coronavirus has not been music to Warner's ears, as the company made the decision to put its IPO on hold following the recent selloff in the S&P 500. 
The company was expected to IPO last week, and it is currently assessing the recent market turbulence caused by growing fears surrounding the COVID-19 outbreak. 
While the new date is not set in stone, the company's IPO is expected to be one of the year's largest, projected to raise over $1 billion. 
Unlike many of the IPOs from 2019, Warner Music is in fact a profitable company, with its net income reaching $256 million in 2019. 
I'll certainly be looking at the differences between Warner Music and the Spotify IPO in the weeks leading up to its rescheduled public debut. 
Warner Music is one of several other music companies that aspire to go public in the not so distant future. 
Big Hit Entertainment announced that it is planning to go public and has chosen underwriters for the process. 
Meanwhile, Universal Music plans to IPO sometime in the next 3 years. 
Atotech (ATC)
Atotech is a German company that makes specialty chemicals and equipment for circuit boards and semiconductors. 
Carlyle Group, the buyout firm that controls Atotech, acquired the company in 2016 for $3.2 billion. 
They had planned to take the Atotech division public in February and raise the valuation to around $5 billion. 
However, as the coronavirus outbreak heated up, Carlye became concerned.
They feared that Atotech had too much production and exposure in China, and I can't blame them. Roughly 90% of the company's business derives from several manufacturing facilities in China.  
Carlye proceeded with another of its IPOs, however. 
The company-backed 1Life Healthcare (ONEM), which is a San Francisco-based chain of healthcare clinics, went public in late January.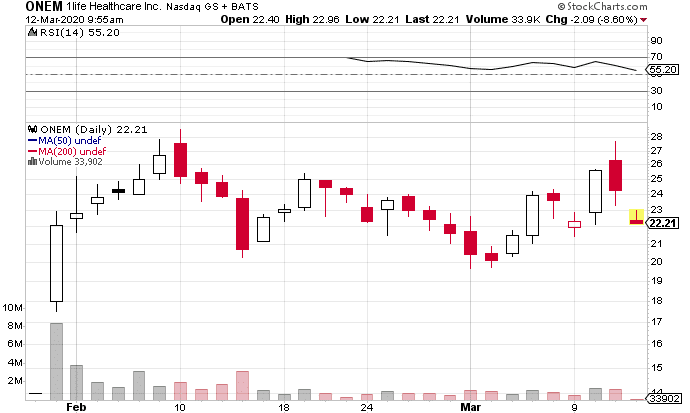 I'll be watching for updates on these IPOs and others very closely, especially with this stock market madness continuing, and I'll be sure to let my clients know as they come through.
If you'd like to learn my playbook for Trading IPO stocks, then click here to grab a copy of my latest guide. You'll be shocked at how many opportunities you're leaving on the table. Supplies are limited.